Bag2School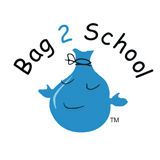 Bag2School is the UK's leading textile recycler and fundraiser working with schools and since its inception in 2001 they have now paid out over £16 million.

By getting involved in our Bag2School collection, you have an opportunity to sort through your cupboards and wardrobes and donate unwanted textiles. Please refer to the list below for what can and what can't be donated:
what can be included in the bags:
Men's, Ladies and Children's clothing
Paired shoes (tied together or elastic band around)
Handbags
Hats
Bags
Scarves and ties
Jewellery
Lingerie
Belts
Soft toys
and what can't be included:
Duvets, bedding, blankets and household linen
Pillows and cushions
Carpets, rugs and mats (including bath, shower and toilet mats)
Curtains
Towels
Soiled, painted, ripped or wet clothing*
School uniforms
Corporate clothing and work wear
Textile off cuts, yarns or threaded material
A bag will be provided for your donation, if you fill your donation bag and you still have more then you can use any other bag to donate. We receive £500 per tonne or £0.50/kg which will be a great boost for our fundraising. In addition it will also raise awareness amongst the children of the benefits of recycling and reuse.