Parents' Association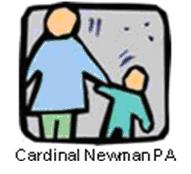 All parents and guardians of children attending Cardinal Newman become part of the Parents' Association automatically. The aims and role of the PA are:
To be a main point of contact between the parent body and the school
To hold regular open meetings where issues and ideas are discussed with the Headteacher
Fundraising for the school which is key and has been successful through regular events
However much or little you can help, it is all important to the continuing support we can offer to the school.
This year we have been asked to help with the following:
•Millers Ark (animals from the nativity scene) visited the school on 8 December and it was really enjoyed by all the children
•New football and netball kit has been purchased
•New shelving and books for the library
The PA is now a registered charity - you can read more, including about match funding, here.
The new team for 2017-2018 is:
Co-ordinator – Lorraine Spagatner (children in Year 4 and Year 2)
Secretary – Melissa Moore (child in Year 2)
Treasurer – Krisztina Norfolk (children in Year 6 and Year 2)
You can contact the PA at pa@cardinalnewmanschool.co.uk. You can also sign up to Classlist, the PA's communication system for all school parents - find out about how to sign up here.
The PA had a very successful 2016-2017.
The Cardinal Newman Parents Association is now being sponsored by Curchods. We are very happy with this partnership.